Factors Influencing Public Policymaking Process in Bangladesh
A Comparative Study of Recent Public Policies
Keywords:
Public Policy; Bangladesh; Policymaking; Agenda; Decisions; Interests; Stakeholders; Resource
Abstract
Public policymaking is not just a bare of administrative actions taken by the government but a series of activities that are driven by various social and political factors. Public policymaking in developing nations like Bangladesh is influenced by a complex socio-political context and experiences a variety of difficulties and obstacles. This attempt seeks to understand the policymaking process in Bangladesh taking into account factors of 'change' and 'stability' in policies and to explore the issues working behind policy formulation. This study adopts a qualitative research approach through case study analysis following different theories of policymaking. The findings reveal an interactive policy process where each policymaking process varies depending on its nature. The type of policy, interests of the stakeholders, calculation of resource gain (political and financial), organizational and political interests and utility of the policy have played key roles in the formulation of policy in Bangladesh.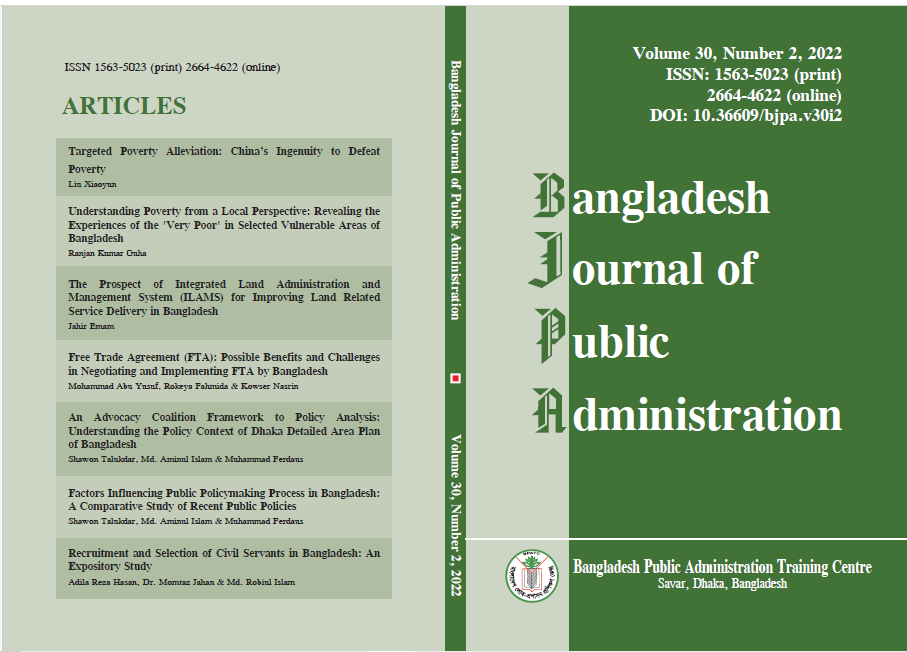 Downloads
How to Cite
Ferdaus, M. (2023). Factors Influencing Public Policymaking Process in Bangladesh: A Comparative Study of Recent Public Policies. Bangladesh Journal of Public Administration, 30(2). https://doi.org/10.36609/bjpa.v30i2.361
License
Copyright (c) 2023 Bangladesh Journal of Public Administration
This work is licensed under a Creative Commons Attribution 4.0 International License.
Copyright is retained by the author(s).
Authors consent to publish the article and identify them as the original publisher.
Authors also grant any third party the right to use the article freely as long as its integrity is maintained and its original authors, citation details and publisher are identified.
The users can use, reuse and build upon the material published in the journal but only for non-commercial purposes.
This is an Open Access article distributed under the terms of the Creative Commons Attribution 4.0 International License, which permits unrestricted use, distribution, adaptation, and reproduction in any medium, provided that the original work is properly cited.